Our Partners
The Journal of Personal Selling and Sales Management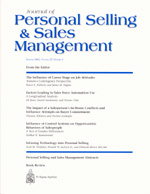 The Journal of Personal Selling & Sales Management is the premier international academic journal devoted exclusively to the publication of peer-reviewed articles in the field of selling and sales management. For over twenty years JPSSM has offered its readers high-quality research and innovative conceptual work that spans an impressive array of topics -- sales force performance management, account management, organizational buyer-seller relationships, technology in selling and account management, leadership in sales organizations, interface of sales and marketing (and other functional areas), sales channels, alliances and partnerships, customer relationship management, database management in buyer-seller contexts, and more.

The Sales Management Association publishes selected JPSSM articles in our Resource Library, and we are pleased to work closely with JPSSM as an association partner. The JPSSM is owned by the Pi Sigma Epsilon National Education Foundation, which is also the sponsor of Pi Sigma Epsilon. Pi Sigma Epsilon is a national, professional, co-educational fraternity for students in sales and marketing.

DePaul University's Center for Sales Leadership in one of the largest and best centers for sales management education. Drawing from a sizable and diverse student body, and a faculty with deep business expertise, the Center's mission is to "connect the best students with the best companies." Each year, the Center for Sales Leadership graduates approximately 150-175 students each year with a full concentration or minor in sales.

The University of Houston's Sales Excellence Institute (SEI) strives to be the leading global network for sales research and education. Part of U. of H.'s C.T. Bauer School of Business, SEI is sponsored by over 25 corporations including 3M, State Farm, Ecolab, Liberty Mutual, Edward Jones and many others.

The Sales Institute at The Florida State University is dedicated to preparing students by providing world-class sales education and training. Housed under The College of Business, the Sales Institute utilizes the most current sales training technologies developed through continuous research to facilitate each student's development. Equally committed to education and research, the Sales Institute conducts leading-edge research on the sales profession and the drivers of salesperson and sales force effectiveness.