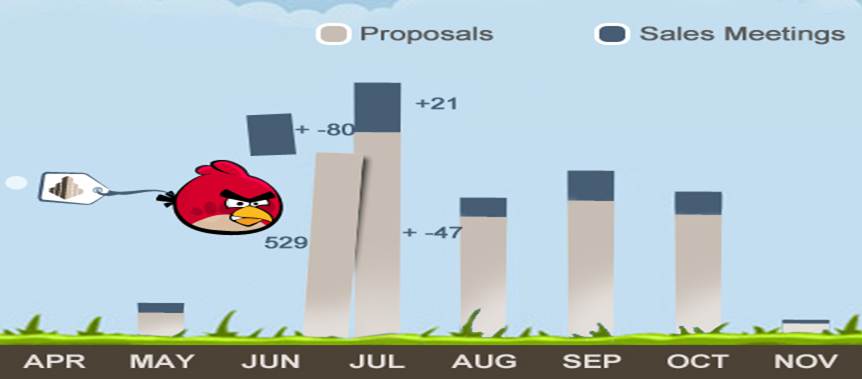 Buy your salespeople iPads, and they'll play more Angry Birds. But that shouldn't stop you from pushing your sales organization to adopt tablets. That's one finding from our recently concluded Study of Sales Force Tablet Computing Trends. Another is that salespeople are adopting iPads on their own as fast as their firms are provisioning company-purchased devices.
Company-endorsed programmatic initiatives to deploy tablets to salespeople are still in their early, initial phase in most firms. About 60% of companies are actively managing company-endorsed initiatives, from pilot to mature deployment. Another 30% consider their efforts experimental, involving a handful of early adopter employees and their BYOD (Bring Your Own Device) tablets. Only 10% have no interest in pursuing a company-endorsed tablet initiative for the sales force.
Get a summary of our findings from our Study of Sales Force Tablet Computing Trends, and register for this week's webcast on mobility and sales enablement here.
These last two groups might consider the down side of standing pat. Marketed first and foremost as consumer devices, tablets have every chance of landing in your salespeople's arms without your help. Ignore this trend at your peril; it's of real concern to organizations worried about data security or appropriate use. The most prudent of these are anticipating the issue by formulating clear policies and procedures governing tablet usage and company information assets, even if the device is the property of the employee (in firms with company-endorsed tablet programs, only about 60% of devices are provisioned by the company; the balance are owned by salespeople and are accommodated in a company BYOD policy).
More compelling is the upside of tablet adoption. Adopting sales forces are learning that tablets' value as connected devices is exceeding their expectations. Salespeople are using tablets for social media, email, and web access significantly more than expected. More interesting still is the nature of salesperson-customer tablet interactions, as salespeople utilize tablet's unique form factor, they're finding applications for customer presentations and content sharing that are innovative and compelling in ways laptops never were.
As such, we think tablets represent more of a quantum advance in mobility, as opposed to a merely incremental advance. Sales organizations must begin adapting communication and information sharing to the new platform, but also experimenting and gaining experience with tablets. As new applications develop, slow-to-adapt firms run the risk of being caught flat footed.
Learn more about the Sales Management Association's recent research by registering for this week's webcast (hosted by SAVO Group). Register and we'll also email you:
A summary of findings from our recent Study of Sales Force Tablet Computing Trends
SAVO's Sales Enablement Maturity Model white paper: it's a great tool for Sales Operations professionals considering mobile initiatives in the broader context of sales enablement strategy.
Register for the webcast, the research findings paper, and the sales enablement maturity model paper here.