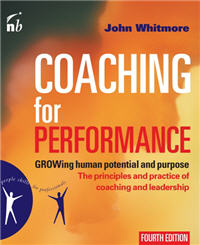 Each quarter The Sales Management Association provides members with a book summary from getAbstract, the world's leading book summary provider. This quarter, members may access getAbstract's summary of Coaching for Performance, by Sir John Whitmore, Ph. D.
Coaching represents a powerful managerial tool for developing employee performance beyond the typical skill and motivational approaches to professional development. This book reveals how coaching should be embedded in the process of ongoing communication and relationship building; and how effective coaching places people at the top of management's agenda - in action, not just in word.
Sir John Whitmore is a respected guru in the field of performance coaching. He also is a bigger-than-life figure who was once a professional racecar driver on a championship team. Whitmore's popular, authoritative book, now in its fourth edition, is a classic contribution in the field of performance coaching. The Sales Management Association and getAbstract recommend Coaching for Performance as a resource on the philosophy and methodology of coaching; it delivers practical, common sense approaches to developing people and services, and illustrates coaching's powerful method of creating excellent results.
To download the free summary, login with your Sales Management Association username and password, and follow the link that appears after the "Read More" jump. Learn more about getAbstract's benefits for Sales Management Association members here.