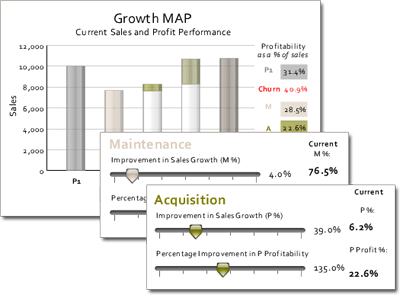 This interactive calculator measures rates of Maintenance (M), Acquisition (A), and Penetration (P) growth over two user-specified time periods. The tool also projects total sales and profit change resulting from forecasted improvement in Maintenance, Acquisition, or Penetration rates.
MAP calculations are performed at the sales territory, product group, business unit, or total company level.
The MAP Improvement Calculator is provided here in a download-able flash format (viewable in Internet Explorer, Firefox, or Safari) and as a Powerpoint file (display in presentation format to activate the calculator's interactive features).
Clicking the illustration above will demo the calculator. Having trouble viewing? Download and install the latest Adobe Flash Player here.