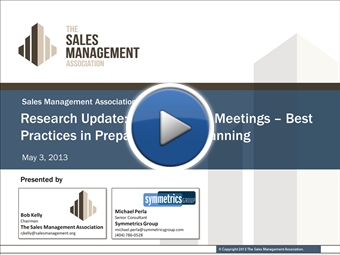 Symmetrics Group's Michael Perla recently joined us on a webcast to review findings from our research Annual Sales Meetings – Best Practices in Preparation and Planning. Conducted in collaboration with Symmetrics Group, the research examines how large organizations plan effective annual sales meetings. It includes input from 51 business-to-business sales organizations.
Among the most important findings:
Meetings often fall short in communicating important strategic themes and setting strategic focus; and
Planning for meetings often involves too much executive input, and not enough field- based input
Perla suggests a few ideas to address these challenges:
Integrate key sales strategies with all meeting content. Thread key strategic themes throughout all meeting content. This may mean careful, and early, communication of themes to all meeting presenters and stakeholders.
Presentations should be concise and engaging. Over-engineered slides and garrulous presenters numb attendees with reduced information retention. Limit presenters to 10 or less attention-grabbling slides.
Communicate specific, actionable outcomes. Perla recommends clarifying the unique steps you expect those in each sales function (e.g., sales operations, inside sales) to execute. Team members should fully grasp how they must adjust their selling activities to align with organization strategy. Transparent expectations motivate and enable your staff to drive organizational priorities.
Hear an excerpt of Perla's remarks below, or review the complete archive and download the research report on the Sales Management Association members' Resource Library.