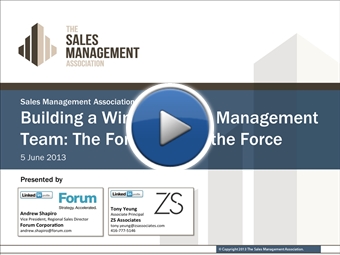 Our recent webcast Building a Winning Sales Management Team: The Force Behind the Force, featured two perspectives on first line sales manager effectiveness. ZS Associates, whose intellectual Godfathers Sinha and Zoltners recently published an eponymous book on this topic, have much to say about sales effectiveness generally, and have focused on sales manager effectiveness in a specific way of late. Forum Corporation approaches the issue as a leader in the field of, well, leadership; their management development content is consistently smart and insightful. Both firms are Sales Management Association underwriters and frequent presenters to our audience.
In the webcast, Forum's Andrew Shapiro and ZS Associates' Tony Yeung each detail useful frameworks for front line manager (FLM) effectiveness. Young focuses on the three broadly-defined FLM roles featured in the book: "Business Manager," "People Manager," and "Customer Manager." Shapiro outlines a framework backed by Forum's research that centers on increasing the impact of FLM's day-to-day activities.
The FLM's Three Faces
ZS's construct of the FLM as Business Manager, People Manager, and Customer Manager suggests that each role has a crucial, but distinct impact on sales effectiveness. The Business Manager is tasked with key strategic tasks such as pipeline management as well as more administrative functions like monitoring policy compliance. People Managers focus priority on selecting, developing and supporting a high-performing sales team. And lastly, the role of Customer Manager entails optimizing buyers' experiences via activities like account planning and sales process management (Slide 9). Young suggests that sales leaders generally spend 30-55% serving as People Manager, 25-40% as Customer Manager, and 20-35% as Business Manager; but emphasizes that these are only guidelines. FLMs must carefully consider many factors including their focal strategic priorities and primary sales challenges in determining how to efficiently allocate their time (Slide 11).
The Forum Framework
Forum Corporation's Shapiro focuses on an effectiveness framework that starts with FLM activities. First, he prompts sales leaders to assess how they currently allocate their time in some organized manner (e.g., surveys, interviews); next, design a strategy for how FLMs should ideally spend their time, considering sales objectives, potential time traps and other pertinent factors. Lastly, Shapiro calls on managers to implement a process for shifting their current performance to a practical ideal. To do so successfully, he recommends tactics including identifying gaps, assessing the plan's feasibility and communicating clear team expectations.
These two frameworks share a common feature: they liberate the upside locked up by inefficient practice and conventional sales management approaches. Learn more about Forum's and ZS's insights by accessing the complete webcast archive (Sales Management Association members) or checking out the excerpt below.