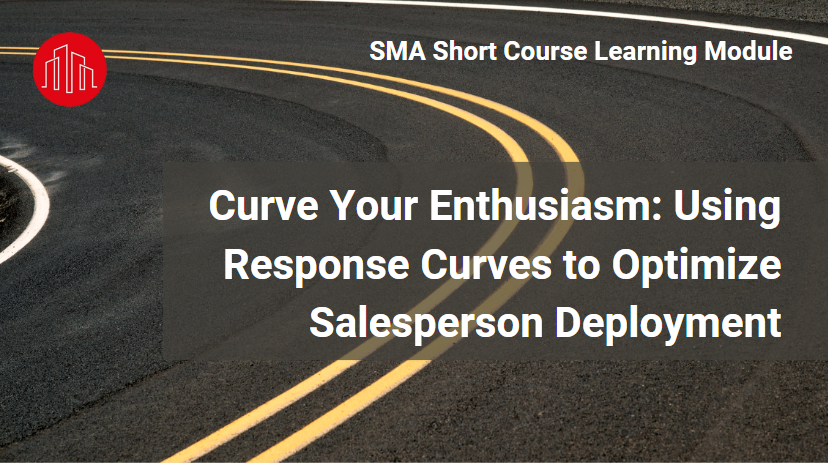 Description
Sales response analysis is used to model the impact of sales effort on sales outcomes. Response analysis can be illustrated graphically using a curve (and the terms response analysis and response curves are often used interchangeably).
This module presents the purpose of response curves, how to prepare and interpret them, and how to apply the insights gained from response analysis to managerial decisions. Lastly, it details several important considerations related to the use of response curves in sales management.
Course Format
This course module includes one video segment, about 14 minutes in length, a module transcript, a supplementary illustrative data set you may find interesting to explore, and a brief knowledge check quiz. This is an on-demand, self paced short course.
Certificate of Completion
Learners that score 100% on the concluding knowledge check are provided with a certificate of completion for this course module, and may use the completed course to satisfy Sales Management Association certification program requirements.
Course Fees and Requirements
There are no prerequisites for this course. Course fees are based on SMA membership level.
Members at the Corporate, Individual, and Associate membership level may enroll in the course at no cost.
Non members and Basic members may purchase this course for US$60.00.
How to Enroll
Use this link to enroll in the course.
If you are not a full member (Associate, Individual, or Corporate), and you would like to purchase this course, enroll on this page and follow the instructions we email to purchase the course module. create a free. You can also purchase a full membership at this link, and take this and other courses for free.