The Sales Management Association is rolling out a new networking and peer-to-peer discussion platform. We've built it for practitioners who value high-quality professional networking and peer-based knowledge exchange.
Interested audience members can sign up at no cost for a program pilot and participate in this early networking event. Full membership won't be required for pilot events, though full members are given preference for limited slots.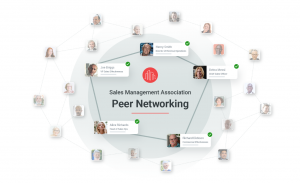 The platform matches participants based on shared interests, common challenges, or other criteria. Matches are connected by video chat in a series of "speed meetings" during networking events – seven meetings over the course of one hour.
This session will focus on peer-to-peer practitioner networking, and is open to practicing managers (not vendors). We hope you'll take advantage of the new platform and help us refine its application for our audience's benefit over the next few months.
Register below and you will be sent instructions for participating.
This session is free to join and open to the public. Become a basic member ($0), login, and return to this page to register.