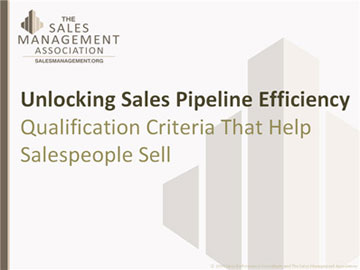 Recessions force firms to reduce expense, headcount, and capital spending in the scramble to adapt their cost structures to lower demand. As revenue-producing resources, sales forces are caught in the middle – they're expected to retain and grow business in a more difficult climate with less support. How should sales forces respond to this challenge, to do more with less? One answer: improve pipeline efficiency.
For sales leadership, pipeline efficiency improvements are a compelling quick-hit opportunity to grow sales productivity, while reducing cost and waste. It helps salespeople know in advance which deals are likely to close, and which ones are not. Accomplishing this requires a focus on opportunity quality – not quantity. Yet few companies rigorously manage pipeline quality – or even establish consistent meanings for terms such as "lead," or "qualified opportunity." In this archived webinar, downloadable slide presentation, and presentation transcript, sales process thought-leader Mike Webb presents powerful insights from years of research helping sales teams improve their qualification criteria.
Topics addressed include: a simple approach for driving salesperson adoption in measuring qualification; four-steps to a qualification instrument with 90%+ forecast accuracy; how to analyze sales observation data; crucial things you need to know about your sales process that only statistics can tell you; employing pipeline management to dramatically improve selling behaviors and results; establishing ROI for training and other initiatives.