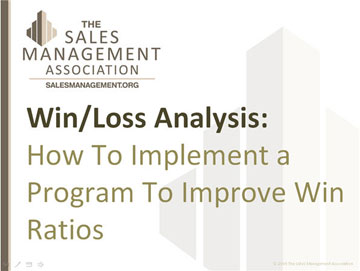 Win/loss analysis helps sales management improve win ratios, direct sales coaching efforts, and enhance competitive advantage. Properly implemented, win/loss analysis is a process-based discipline that involves contacting customers, sellers, and support resources after a particular sales opportunity has been dispositioned and determining what was done well, what could be done better, and what competitors did right or wrong. This archived webinar, delivered by North Highland Company's Michael Perla, focuses on three key areas:
1. Defining a win/loss analysis project;
2. Conducting a win/loss analysis project; and
3. Developing a strategy and action plan based on the project results.
Resources available on this research
---