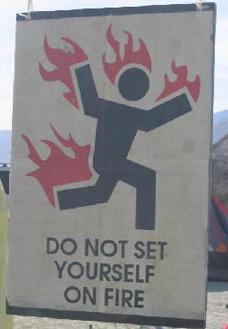 Two executives are given departmental budgets: one is a CIO, the other a Chief Sales Officer. The CIO buys a lot of software and hardware; the CSO a lot of sales training. What steps will each take in order to make sure they get a solid ROI on their departments' respective investments
The CIO will almost always consult a research firm like Gartner or Forrester. These firms provide independent analysis of vendors' strengths and weaknesses, and commentary on which solutions will meet the evolving future needs of the marketplaces they serve. CIOs might also pay a management consulting firm to make specific recommendations on which solutions are good investments. Neither option is cheap, but either goes a long way toward keeping the company out of big-budget technology quagmires, and helps the CIO stay employed.
In contrast, the CSO rakes his sales training investment dollars into a pile, and lights them on fire. This generates both heat and light, pleasing all who gather in its presence. Afterwards, the CSO presides over a ritualistic combing through the ashes, as participants pretend to "look" for ROI. Then comes rending of cloth, gnashing of teeth, persecution of staff, and chants of Where has the investment gone? Where is the return
Could CSOs make buying decisions like their CIO colleagues? Dave Stein thinks so. His firm, ES Research, is a Gartner for the CSO set. ES Research conducts independent evaluations of sales training firms, advises clients which training firm(s) to hire, and then helps them get ROI from their training investments. The ESR site also provides reports helpful to training buyers (e.g., Understanding, Defining and Meeting Your Sales Methodology and Training Requirements for US$400), and a helpful directory of course offerings by training firms (free, registration required). ESR recently expanded its coverage of sales training firms, and now follows 39 providers, including Sales Management Association underwriters AXIOM Sales Force Development and The TAS Group. I'm personally a big fan of Dave Stein's blog, a well-written, soundly-reasoned, and authoritative take on the US$6 billion conflagration that is the worldwide sales training industry. Dave chides the industry without being snarky, and promotes it without being cheesy. It's easily the most readable and useful sales training resource on the web.
It's a simple, Bronze Age proposition to a predominately Stone Age audience: if you're going to burn cash on sales training, why not make a few tools in the fire? Maybe keep your career from becoming char in the process