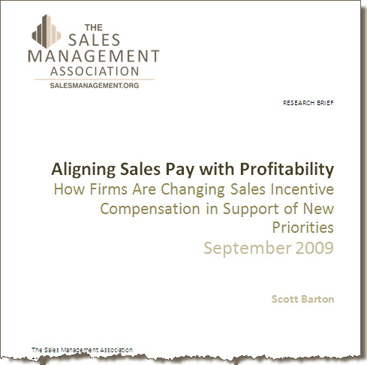 There's lots of talk today about incentive measures and risk management. Even if you're not a TARP recipient, your company's board and executive management could take greater care in deciding which performance measures get used to calculate incentives.
Sales incentives are another matter, but the issue still pertains. During a growth cycle, most sales people focus on quantity – basically sales volume. Now in cost-containment mode, many executives desire better alignment between company profitability and sales compensation. Advances in information technology and reporting enable a clearer picture of profitability at the account and transaction level. Yet there are inherent differences in sales incentive plans compared to those used for executives and other employees. Failure to thoughtfully plan and execute compensation changes to sales professions can undermine progress toward the company's profitability goals.
In this Sales Management Association Research Brief, author Scott Barton outlines how firms are responding to a new focus on selling profitably, by redefining pay philosophy, shifting job focus, and introducing profit-specific metrics within incentive compensation plans.
Resources available on this research
---