"Coaching" salespeople yields tangible productivity benefits for sales forces, as research (including our own) has shown. Yet although coaching is considered important by sales organizations, it is under-supported by executive leadership (see the exhibit from our research below). And despite acknowledging coaching's benefits, very few sales organizations field credible coaching initiatives. Those that do must solve at least two intractable challenges: limited management bandwidth, and low management accountability for coaching results. Technology is starting to address both problems; and for some organizations two new tools now available from SpearFysh and Callidus may make the difference between offering meaningful coaching programs and paying lip service to coaching salespeople.
Sales Coaching: All Talk, No Walk
The concept of "coaching" salespeople meets with enthusiasm from every quarter, no doubt because "coaching" salespeople sounds better than "supervising," or "managing" them. Ask a salesperson if they'd benefit from coaching, ask a manager if they view themselves as a coach, ask a senior sales executive if their organization should provide more coaching, ask a CEO if their company culture supports coaching; you'll find a lot of heads nodding up and down: yes, yes, yes, coaching, coaching, coaching.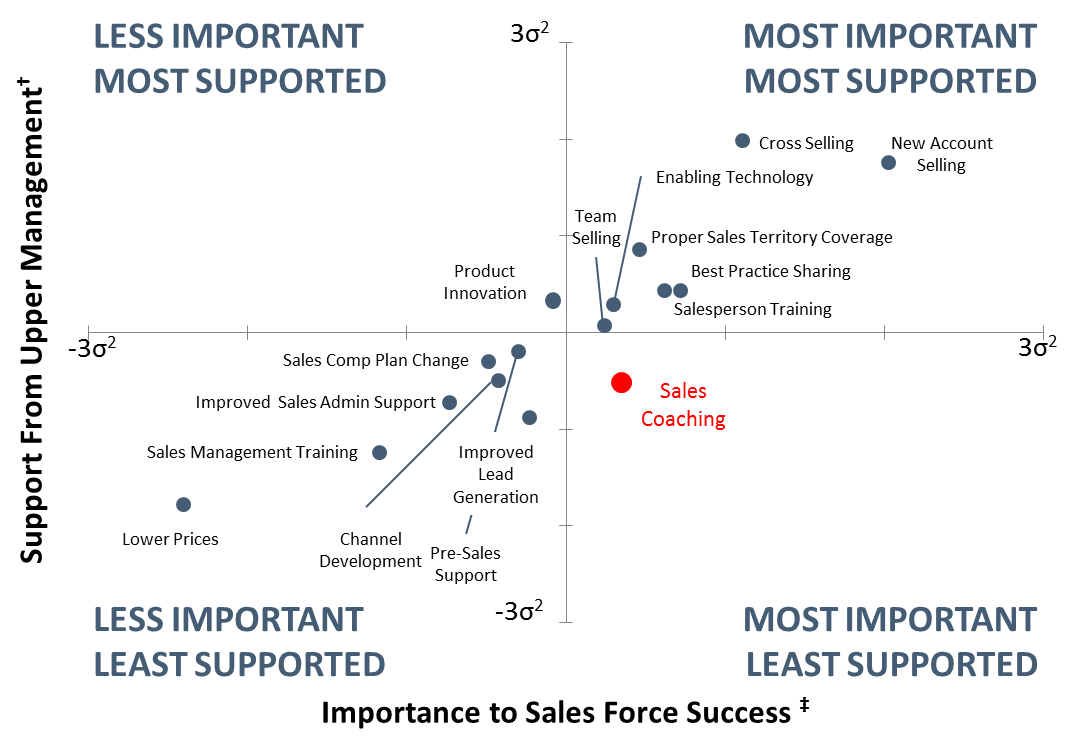 Yes, they'll say, we need coaching because the sales job is getting harder. Selling time – actual time spent by salespeople with prospects – is diminishing, and our salespeople must maximize what little time they have. Yes, we need coaching because with so much changing in the marketplace our salespeople must adapt better and faster. And yes, we need coaching because classroom sales training isn't helping.
The heads keep nodding right up to the very moment it's time to actually invest in coaching. This moment usually involves taking something away from sales managers – some time-sucking administrative burden perhaps – so that managers may actually deliver a meaningful coaching agenda. Or perhaps this is the moment when the organization realizes what true coaching involves; or, just how much coaching their salespeople require.
The Coaching Problem
Heads stop nodding at this moment, due to human physiology. At this moment the brain's management centers divert muscle energy used for head nodding to the sphincter, where it is required for puckering. Because at this moment, someone in the organization is going to have to write a check, or whack some heads. This is the sales coaching problem. Convince the organization to unclench at the prospect of substantial pain and or investment, and you've solved the sales coaching problem.
At the very core of the sales coaching problem are the following intractable challenges:
Coaching salespeople requires that coaches observe selling activity, but managers don't have time to do this; and
Companies have a very hard time holding managers accountable for coaching outcomes.
These aren't the only challenges to fielding a coaching program of course, but solving these goes a long way toward getting most organizations in the sales coaching arena.
Two Technology Solutions
For coaching to work, coaches must observe selling activity. This is hardly a problem for telesales, where sales conversations are routinely recorded, monitored, analyzed, and archived. But for direct sales forces, the actual conversations salespeople have with customers are the least transparent, least accessible, and least understood asset the sales organization has. Start-up SpearFysh aims to change that. SpearFysh markets a smart pen-based call recording platform that captures sales call audio, and then applies speech analytics to identify trends and insights. The result is a digital asset that managers can use to enable "virtual coaching." SpearFysh Founder and CEO Marc Miller (author of A Seat at the Table) explained the platform, and offered a cogent take on sales coaching's technology-enabled future in a webcast last week (viewable archive is below).
SpearFysh doesn't try to solve the limited management bandwidth problem by re-engineering sales management's role; instead, it aims to provide game-changing efficiencies in capturing, observing, and analyzing sales call activity. Recently out of Beta, SpearFysh concluded a pilot program with a 50-seller Recall sales division that shows compelling ROI (more than doubling sales over a 12 month period). Currently pen-based, Miller sees the technology migrating to other mobile devices with the next generation of tablets. His insights, and SpearFysh's early successes, argue for the inevitable, widespread adoption of in-person sales call recording, the application of automated speech analytics, and the rise of virtual coaching.
Callidus is addressing another coaching problem – creating accountability, visibility, and an integrated operating system for sales coaching. Their approach makes use of ForceLogix, a recent acquisition, whose software offers "coaching workflow" for managers as well as tracking of coaching objectives, activities, and progress. Given Callidus core "sales performance management" (SPM) category presence, the coaching offering makes sense, and positions the firm's solutions toward an end-to-end sales management intelligence suite. Callidus joins sales coaching guru Bob Sanders from AXIOM Sales Force Development on an upcoming Sales Management Association webcast to talk about emerging trends in sales coaching enablement platforms and their role in facilitating impactful sales coaching initiatives.
Look for more technology innovations focused on solving the sales coaching problem, as related trends in mobility, analytics, and fast-growing need for more adaptable sales forces accelerate. And, SpearFysh and Callidus (as well as Sanders) will be speaking at our upcoming Sales Force Productivity Conference 23-25 October in Atlanta. They'll join 25+ other sales effectiveness thought leaders and hundreds of practitioners at the conference, which will feature panels, workshops, and keynotes on sales coaching, process improvement, sales operations effectiveness, and many more sales productivity topics.
Learn More
[Sales Management Association members skip the guestbook and view the webcast archive here]