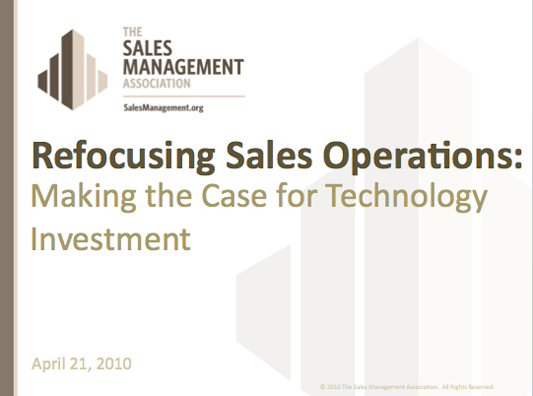 Sales Operations teams are pressed to do more with less, even as they face the most demanding competitive and economic pressures in recent history. Sales Operations tactically supports the sales function, but also leads transformational change and innovation initiatives within the sales organizations they support. Yet the rising tide of tactical demands threatens the ability of many Sales Ops departments to fulfill their more strategic role: under-resourced and over-burdened, some are too focused on bailing water to help steer the ship.
Sales Management Association's Sales Operations Advisory Board recently identified Sales Ops' struggle to shift from tactical to strategic initiatives as a critical priority for 2010. The Advisory Board believes that several key technologies have enormous potential to aid Sales Ops' efforts. One of these is Sales Performance Management, or SPM. SPM increases management's visibility into the sales organization's performance and deployed assets, while dramatically decreasing the tactical effort required to meet administrative demands.
The Sales Management Association asked two firms in on the forefront of the SPM movement, Varicent Software and TerrAlign, to share how their most successful clients build compelling business cases for justifying SPM investments. Drawing on their collective experience across hundreds of client implementations, their insights yield great practical advice for sales operations practitioners interested in leveraging technology investments within their organizations.
Key Discussion Topics:
Sales Operations' role in driving innovation and engineering sales force productivity;
Strategic benefits of SPM, incentive compensation automation, and territory alignment;
Expected tactical gains from optimizing and automating incentive compensation, territory alignment, and their respective ancillary processes;
Description of the specific benefits achieved by clients from both firms; and
Quantifying return on investment and strategic importance of sales-impacting technology investments: tips and tactics for sales operations practitioners.